How to Include Your Dogs in Weddings – IndianWeddingCards
Saurabh Agarwal, 4 years ago
0
4 min

read
39464
The presence of all your friends is important at your wedding. So why leave out your furry friends? It can indeed be a paw-sitive decision to call little canines over to your wedding. Here is how you can make them feel like home and include your dogs in weddings:
Get clicked with 'dogfies': Treasure a wide canine smile or a kiss on the snout to cherish for years to come. A doggie-themed pre-wedding photoshoot can be a brilliant idea. Having your furry friends in the frame while both of you kiss your love away will be the best photo collection! Get them framed hang them in the hallway or keep it on your bedside table.
Disclose the date: Ever thought that your dog could reveal your lucky day? No? Well, then it's high time you give it a thought. Have your dog hang placards with your wedding date in their collars. Isn't it an amazing idea? Thank us later.
Wedding invites: Want to show your love for puppies? Nothing can beat dog-themed wedding invitation cards. A cute paw print on a white background is enough to make your guests fall in love with canines as well. A simple, yet catchy caricature of your furry pet can make a lasting impression.
Wedding favors: Express your gratitude to your guests in doggie style! A dog-shaped cookie, biscuit, and chocolates packed in transparent wraps printed with dog faces can be a 'sweet' gift. A dog keychain or a stuffed doggie can be the cutest wedding favor ever!
Photobooth: Dedicate a corner at your wedding venue for a 'dogspired' photo booth! (Yes, it is a compound of the words – dog and inspired). You can have dog biscuits cut-outs engraved with some quirky captions like – 'Be Paw-sitive' or 'I Do(g)'. Props such as dog masks, dog collars, and dog hats are a cool addition to the photo booth. Got dogs at the wedding? Make real-life props out of them!
Doggo on the cake: Dogs in weddings are okay. But have you ever thought a dog on the top of your lavish wedding cake? A wedding cake on your favorite dog will match with the theme amazingly. The cherry on the cake, have your candles in the shape of dog food bones!
Food for furry beings: Your furry friends will need to eat food too! Set aside food counters serving dog food. Dog bowls designed with your dog's engraved name and tied with a dog-printed ribbon can be a cool option. You can even redesign the menu and replace names with your dog'.
Dance & music: Hit the dance floor with some popular dog numbers playing in the background. "Martha Dear" by The Beatles or "Who Let Dogs Out" by Baha Men are some great songs to shake a leg with your furry BFFs. While you share a leg, let the furry pets run around, wagging their tails.
Dog dresses: On your wedding, let the dogs in weddings have some fun too! Dress them up just like how you dress. A classy tuxedo with a bow collar for the boys and pretty floral prints and cute little tutus for the girls are among some adorable outfits. Don't forget to pair it up with a smart knot headband.
A 'barky' venue: Leave the dog imprint all across the venue. Install portraits of your pets all around. Place flower pots with a dog face at each table.
Adorable dogccessories: Don adorable dog accessories (thus dogccessories) on your wedding. Shirt buttons with a dog face printed on them, bow ties in Dalmatian black polka dot print, scarf pins with a dog face are some paw-sitive accessories.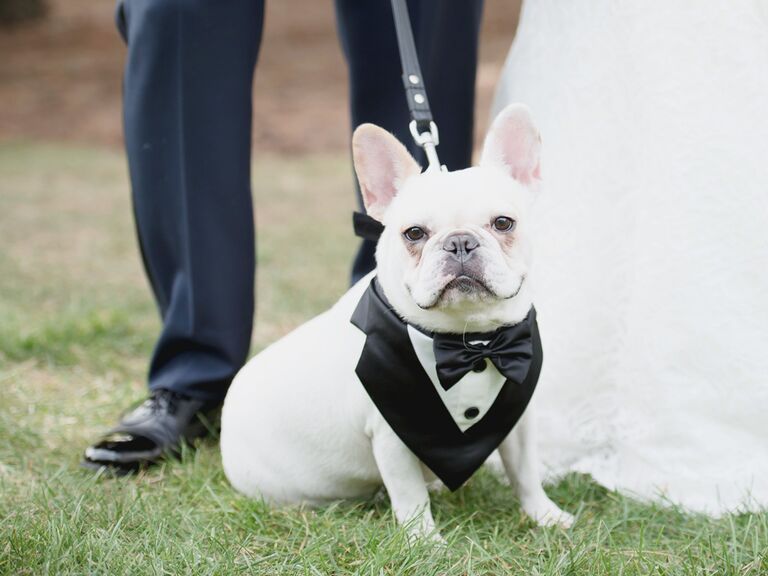 Welcome snack: Let us chuck the welcome drink for a while and begin the festivities with a welcome snack. A dog bone biscuit or a cookie with a chocolate dog face is an excellent way to munch into the wedding.
Play and fun: Reserve a corner for all the dogs in weddings and let them have the time of their lives. Fill in space with colorful plastic balls or toys which the pets can play with.
Here are some pointers you can rely on how to have dogs in weddings. However, before you plan out a wedding on dog theme, make sure than the management at the venue permits their presence. Also, make sure that there are no guests who are allergic to them. If all is clear, pop in the party poppers and let the barking begin!
Happy wedding!
Saurabh Agarwal
Mr.
Saurabh Agarwal
is the Owner of
IndianWeddingCards
. He is a mindful thinker and highly qualified individual with business acumen to foresee unseen areas of opportunities. A genuine wedding columnist with high knowledge quotient about wedding invitation cards. A blogger by ideas and entrepreneur by preference.
Related posts